Trusted Worldwide By Parents
and top-tier retail brands
Love it! Fast shipping, easy to put
together, attractive, no plastic!

Emma
So beautiful, safe, sturdy &
well-made! Glad I went with this one!

Kendra D
Love it! Great quality and
perfectly made. I love that it folds up for easy storage or travel.

Amy M
Beautiful gym set! Really beautiful
quality, perfect for my newborn.

Jennifer B
Great quality and easy to assemble
and store. So much better than the big plastic version the big box stores sell!

Katherine K.
Absolutely adorable, can't wait for
baby to use it. Love It !

Yohanny R
I'm not going to lie, I registered
for this because it was cute. It is cute, but also my son has played under this
from birth. He is now six months old and it is still his favorite. He learned
to grab objects, move them from one hand to another, roll to his side, and so
much more under this gym. It also holds his attention longer than anything else
we own. Sometimes we lay it on the floor for tummy time too. We love it. He
loves it. My number one recommendation for new parents!



Elizabeth E.
Simple and easy to put together.
Love that it can come apart and can pack it up and take it with you on the go. Will be great to use once baby arrives!

Regan J.
My one month loves this gym. No
exaggeration here - we tried so many toys and sound machines that's appropriate for his age but he only likes this. Also, fast shipping.

Sanjida C
Shop Our Collections
Toys that can be both tasteful AND functional. Designed with babies AND parents in mind.
Featured Products
Baby Gear
Nursery Decor
Baby Toys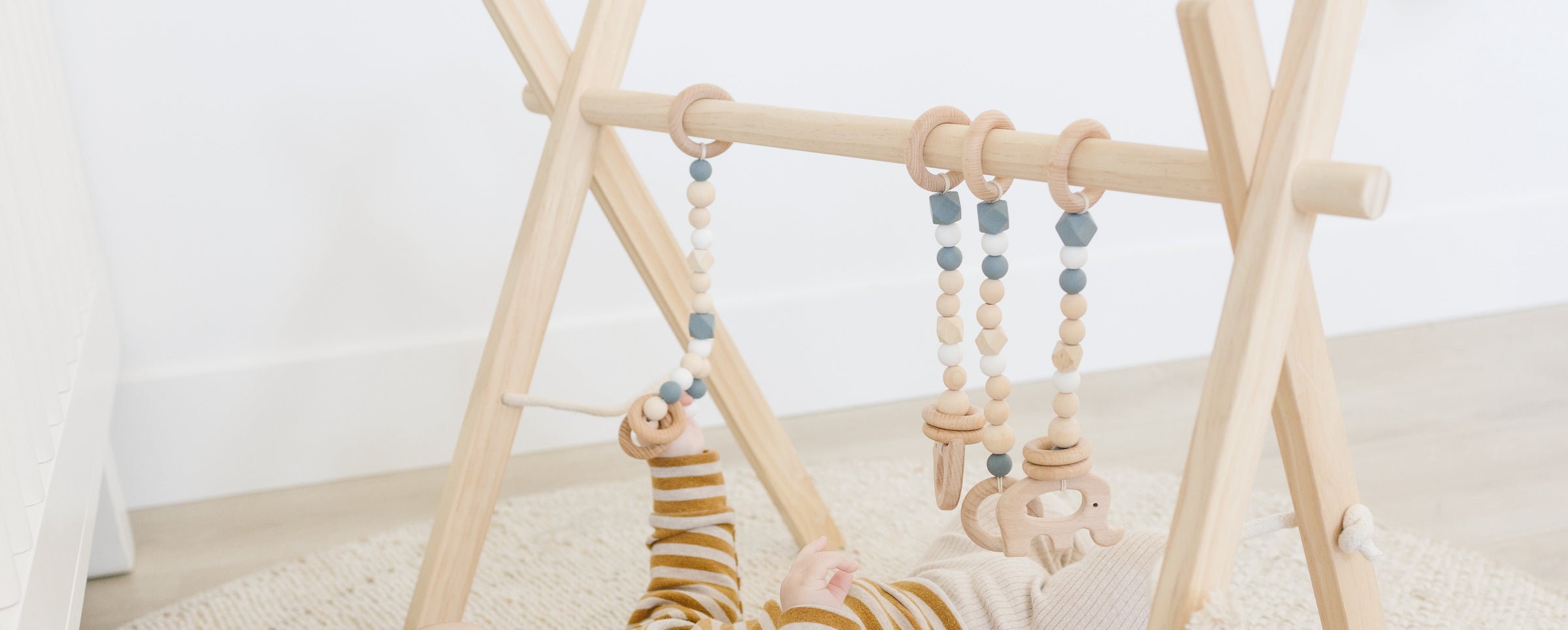 Our wooden baby gyms are sanded smooth for a silky finish and our toys are made with a unique double looping technique to make them safe and durable for years of use. Designed with babies and parents in mind.

What makes us different
We're passionate about providing modern heirloom toys that are engaging and functional while still looking beautiful in your home.

Did you know? Wood actually has antibacterial properties, and germs last less time on wood than plastic. This makes switching from noisy plastic toys to timeless natural wood toys a no brainer!

Fill your home with toys that speak to your minimalistic, and practical heart. Toys that are stunning and entertaining. Foldable for easy storage. Long-lasting as they grow with your littlest loves. Fill your home with Poppyseed Play.