$723.00
Regular price
$803.00
Description

Save $80 when you buy the Wooden Balance Beam, Stepping Stones, Balance Board, Climbing Triangle & Ramp, and the Climbing Arch . 

The Ultimate Movement Bundle is perfect for any playroom and offers endless possibilities to engage in fun and safe activities. From playing with each toy individually or creating one large obstacle course, your child will be able to have countless hours of fun! 

This set includes 1 climbing triangle and reversible ramp, 1 climbing arch, 6 vibrant toy stepping stones, 1 balance board with a natural wood bottom, 6 beams, and 6 connectors. With the ability to customize the arrangement, the play options are truly endless.

For ages 18 months to 10 years or up to 200 lbs.
Materials
Care Instructions
Ultimate Movement Bundle
$723.00
Regular price
$803.00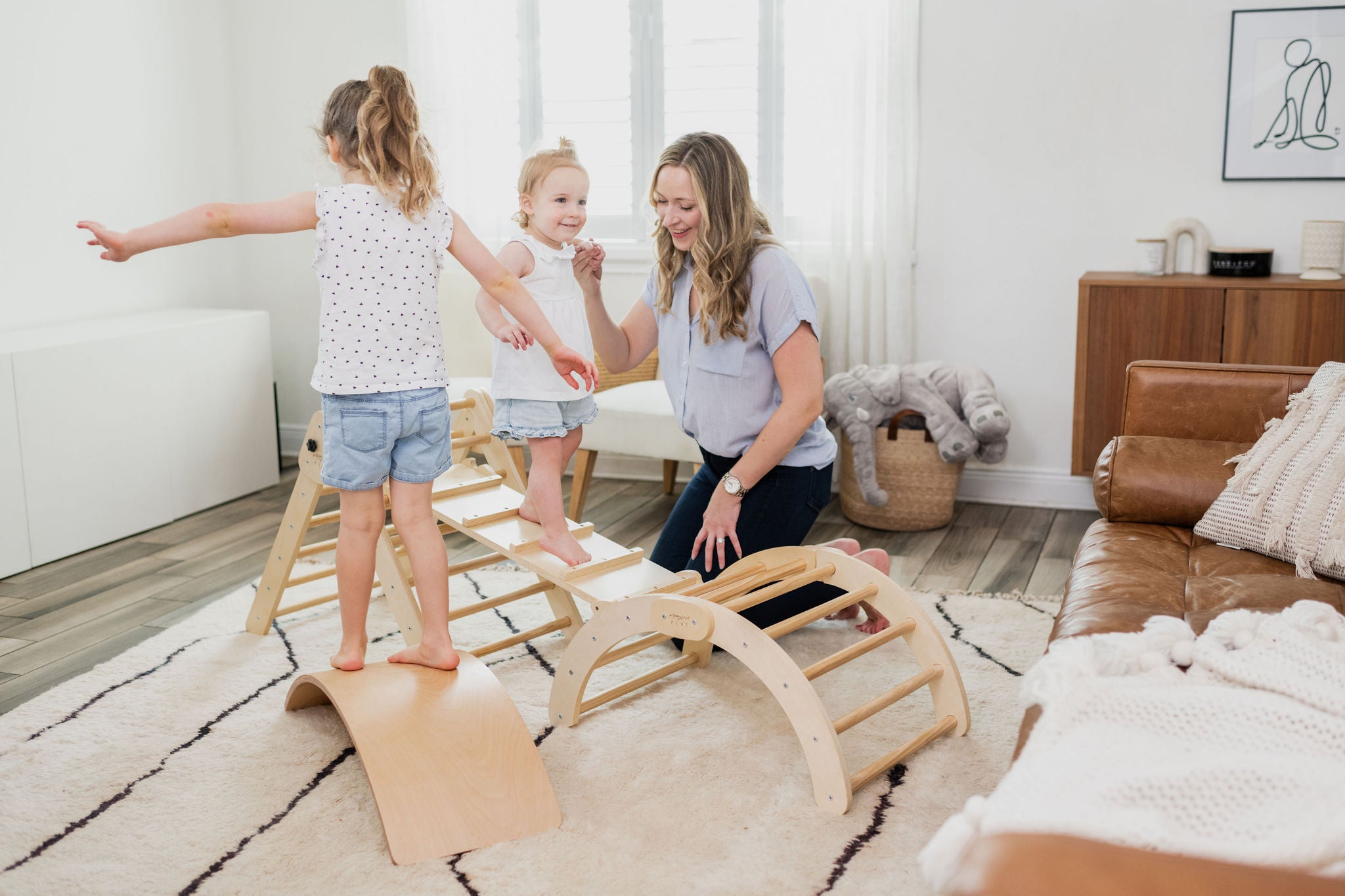 Enhances Gross Motor Skills
Prom your child's physical and cognitive development with these captivating climbing toys. Designed to provide a secure environment, the climber and balance toys encourage exploration, boosts confidence, and nurtures the growth of gross motor skills, balance, coordination, and spatial awareness. Watch your child revel in enjoyable play as they enhance their overall physical health, strength, and fine motor skills.
Easy to Store
Experience practicality of the foldable triangle and arch climbing frame and stackable balance toys - a perfect solution for smaller spaces. With its convenient collapsible design and high-quality natural wood construction, this versatile climbing and balance bundle offers durability and longevity. Transform any room into dedicated play spaces with ease, providing years of active and imaginative play for your little ones.
Limitless Possibilities
This movement bundle is a versatile and engaging toy that fosters exploration and play, aligning with the principles of the Montessori method. Children can delight in sensory experiences and enjoy climbing, sliding, and fort-building. With its simple yet boundless design, the Montessori movement bundle can transform into anything their imagination desires - a majestic castle, a soaring spaceship, or a thrilling race track.
Trusted Worldwide
Toys so lovely you might forget the cleanup song
FOLLOW ALONG @poppyseed.play